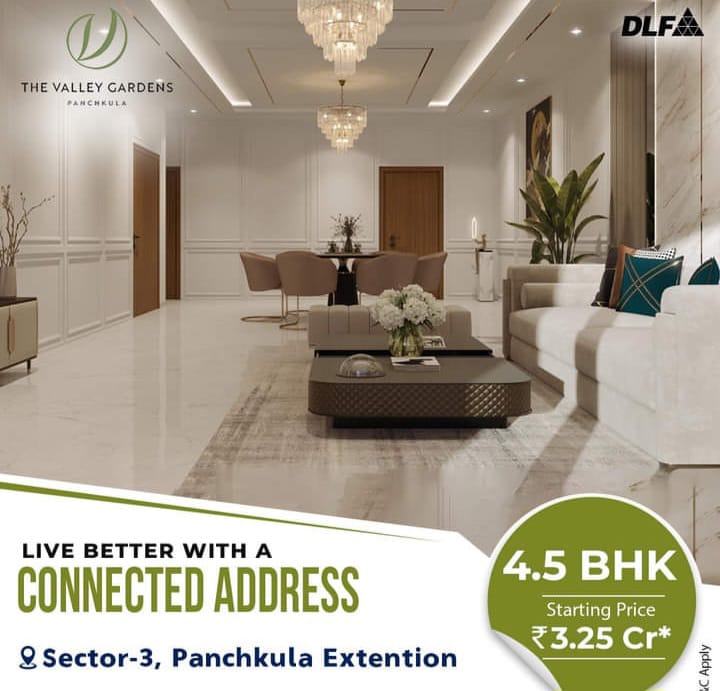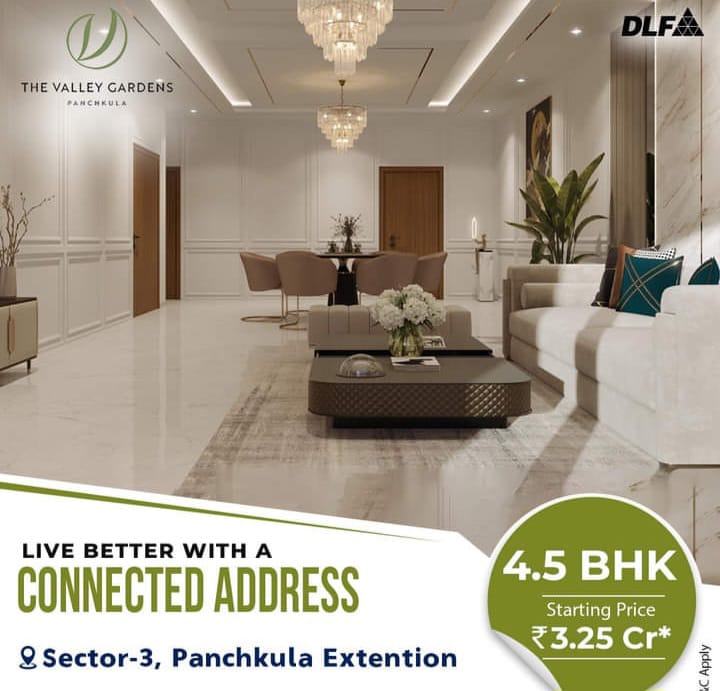 The Valley Gardens, Panchkula
 DLF Valley Panchkula
Sector :- 3, Panchkula
For More details, please reach at +91-9914976044
DLF The Valley in Sector 3, Panchkula is a ready-to-move housing society. It offers apartments, independent floors and villas in varied budget range. These units are a perfect combination of comfort and style, specifically designed to suit your requirements and conveniences. There are 1BHK, 3BHK and 4BHK Apartments, 2BHK, 3BHK, 4BHK and 5BHK Independent Floors and 5BHK and 6BHK villas available in this project. This housing society is now ready to be called home as families have started moving in. Check out some of the features of DLF The Valley housing society:
*Spread over an area of 207.57 acres, DLF The Valley is one of the spacious housing societies in the Panchkula region. With all the basic amenities available, DLF The Valley fits into your budget and your lifestyle.
*Sector 3 has good connectivity to some of the important areas in the proximity such as Grace Creation, Chokhi Dhani Resort and INOX, Urban Sec -2 and so on.
Location Advantages
Sector 3 is one of the prime locations to buy a home in Panchkula. There are multiple residential projects in Sector 3. Some of the important landmarks near DLF The Valley are Grace Creation, Chokhi Dhani Resort, INOX, Urban Sec -2, etc. With important facilities available in the vicinity, Sector 3 surely is a suitable place to call home.
CONVENIENCES ON YOUR
doorstep
Wrapped in natural beauty and guarded by mountains, Panchkula gives you the space to breathe and reconnect but with the convenience of cosmopolitan living.
Ensconced along shaded tree-lined avenues, The Valley Gardens' low-rise luxurious apartments blend into the verdant landscape, creating a green oasis for residents to enjoy. All this can be experienced while remaining connected, with Chandigarh a mere 13 km away.
Address

:

DLF Valley, Sector :- 3, Panchkula

Phone Number

:

9914976044

CIty

:

DLF Valley, Sector :- 3, Panchkula